I've got a tale to tell.
It will shiver yer bones.
If you would like to read my previous review on Sea of Thieves, check out my previous post: The Best Co-op Games 2018 – Sea of Thieves.
Something out of this world happened to me in Sea of Thieves…
I was sailing the high seas with my scallywag crewmates.
We were chasing a skull in the skies.

Skeleton fort in sight! – yelled my crewmate from the crow's nest.



We turned off the oil lamps, raised the sails and slowly docked our ship next to a cliff. Having the ship so close to the island meant we would be barely visible on the horizon. Pirates often roam raiding locations waiting for us to unlock its treasures… and then they attack – so it is important to stay hidden.
However…
Something strange and something wicked was bound to happen…
Once we defeated the last skeleton on the island we unlocked a treasure vault full of gold relics, silver cups, gemstones, rare spices and gold chests!
WOHOO! Someone cryed.
We started hauling our stuff back to the ship… but once we got there…
I mean… …once we got there… …ONCE WE GOT THERE…
WE COULDN'T GET ON THE SHIP!!!
Somehow, whenever we climbed the ladder, we would fall through the ship and into the ocean below it!
There we were… treasures in hand and unable to haul them back to the outpost.

Maybe the issue was the sand bank below the ship?
I decided that we were not going to be defeated by a bug!
So I climbed to the nearest watchtower and jumped onto the ship – hoping that I'd be able to lower the sails before falling through the lower deck again…
So I jumped…
Unfortunately, I forgot that I was low on health due to having fought the skeletons before. I died once I hit the ship's upper deck.
Or did I?…
The quickest visit to the Ferry of the Damned
I saw my restless body fall under the ship and then being dragged to the Ferry of the Damned – the place where dead souls linger before being returned to life.
However… my soul's body fell off the Ferry of the Damned!!
…and it kept falling
…falling
…falling

The screen slowly faded to black…

*SPLASH*
I woke up under water.
While I'm pulling myself back to the surface I'm noticing that my arms are green… ghost green! I'm a ghost!
I am a ghost in the realm of the living!
How could this be?!
As I get my head above the water I can see the fort island far far away – easily recognizable in the distance because of the big cloudy skull above it!
As I turn around I had to take some time to contemplate and try to figure out what I was seeing.
A massive blob of chests and artifacts was floating above me. I wasn't sure what to make of it. I touched them and they fell to the sea floating above the water… several high-end chests and skulls! What were they doing here?!

I was in the middle of the ocean, my skin was ghost-green and there's a bunch of chests hovering right above me. Wow!


While stranded in the middle of nowhere, I ask my crewmates to come and get me before I drown… I give them instructions on how to find me as there's no mermaid in sight to get me back to my ship.
Then a small fin appears above the water. IT'S A SHARK!!!
While trying to grab my sword I notice that it is nowhere to be found!
–Ghosts have no weapons – I thought to myself! – and I can't really punch it or negotiate a truce!
The shark tries to bite me… but no damage is dealt. I am dead after all… You can't re-die if you're dead!
I dove as deep as I could… yet there was no damage to my non-existent health bar. …You can't drown if you're dead!
As I come back up to the surface I notice the chests that were previously floating above the water slowly falling down into the abyss. I managed to grab them and brought them up to the surface again and again like a juggling act!
A ship approaches me! My friends have arrived!
They're stunned when they see my character undead which granted a few laughs and some poorly constructed jokes!


We proceeded to haul all the chests and skulls floating above the water… we weren't going to let them go to waste! We headed back to the fort to finish what we started and then proceeded towards the outpost to sell our stuff.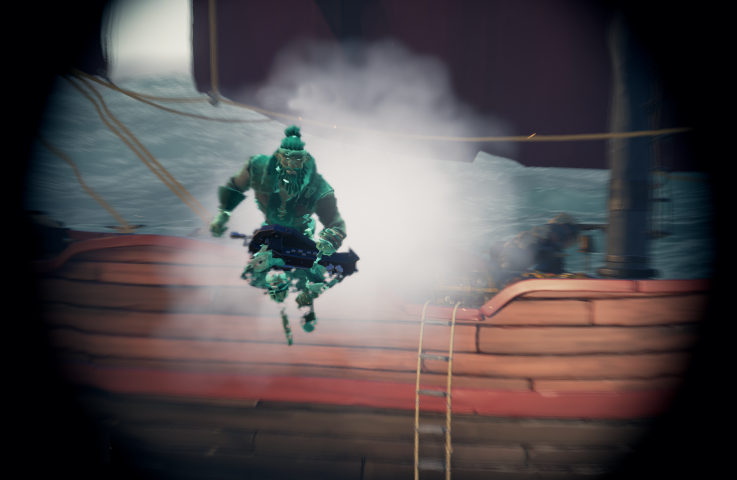 On the way there I saw something shiny in the distance – so I aimed the cannon, got myself inside it and fired it to go check it out.

Meanwhile, the sea around the ship turned ink-black and we were attacked by a giant 10-legged Kraken!
That slimy creature wrecked our ship! My crewmates were running very low on supplies and unable to survive the fight!
I ran and swam towards the ship as fast as I could and when I got there all of our treasures were floating above the water and the ship was nowhere to be seen!
My crewmate was being attacked by sharks and I kept feeding him my bananas – a ghost has no need for bananas.
Eventually he died and I was left there by myself hauling stuff above the water as they sank slowly.
Our ship's silhouette was visible in the distance! They picked me up and we hauled everything back onto the new ship.
After what seemed to take ages hauling stuff, we were finally able to sell our loot for a massive profit.
What exactly does it mean to be a ghost in the realm of the living?!
Maybe it was all just a bug that caused an exception and made me live when I should be dead.
Apparently immortal – but without weapons, I wasn't able to cause any harm.
I was able to cross rock walls… would that be an issue for the game in the long run? Would that make me able to go through fort walls and steal the loot?
We joked that I should go to other player's ships and act as an NPC giving them weird quests like "Fetch me a spotted 4-legged pig so a golden chest you may pick!" and then handing them a skeleton captain's chest or something.
Or instead, pose as having a Ghost-Legendary Character Skin unique to the pirates that delivered 500 chicken!
We had a lot of fun with that peculiar bug for a while but, eventually, the server spit me out and I had to reconnect – back to being a regular living pirate with the sun laying down above a small ship floating on the waves of the Sea of Thieves.
YARR!
If you would like to join me in Sea of Thieves, add me on Steam and use this referral link to get Sea of Thieves at a special discount price.
Also, check my list of the Best Upcoming Games – 2019!
While writing this post I found a video on Youtube by Cyx in which he finds what they think is the ship of the damned deep underwater at the exact same location where I came back from the dead!
You can check it out here.
I'll see you on the Ferry of the Damned,
-Cap'n ViLa4480