Red Dead Redemption 2, a game renowned for its immersive Wild West narrative, also captivates players with its array of paranormal encounters and eerie side characters. These creepy characters and supernatural elements add a layer of mystery and intrigue, making the game a treasure trove for paranormal enthusiasts, explorers, and completionists.
If you're interested in knowing more or remembering the story of Red Dead Redemption 2, check out my previous post: Red Dead Redemption 2's story for people in a hurry.
Spoiler alert – we'll delve into 15 weird or paranormal creatures and characters that you can encounter in the vast, mysterious world of Red Dead Redemption 2. Starting with…

The Strange Man
The Strange Man, an enigmatic figure appearing throughout Red Dead Redemption 2, offers cryptic messages and unsettling insights. His knowledge of the protagonist's past actions and the vague predictions about the future add a layer of mystery and paranormal intrigue to the game. Players encounter him in various locations, where he imparts his enigmatic wisdom. The Strange Man's presence leaves players questioning his true identity and purpose. Several references to the devil seem to surround him.

The Vampire of Saint Denis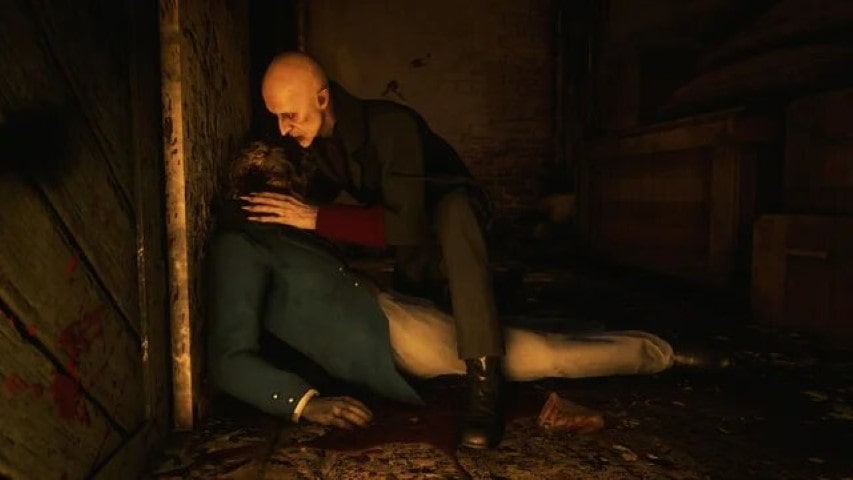 In Saint Denis, players can uncover a vampire by following a series of clues. This paranormal encounter offers a unique and unsettling experience, adding a touch of gothic horror to Red Dead Redemption 2. The vampire's existence reveals a narrative of an ancient evil lurking in the back streets of a modern city.

The Night Folk
In the eerie swamps of Bayou Nwa, players may encounter the Night Folk. These hostile figures, known for their disturbing rituals, add a chilling, supernatural element to the game's atmosphere. Their silent, sudden ambushes and unsettling presence reveal a darker side of the already dangerous Bayou, hinting at a world beyond the living.
Francis Sinclair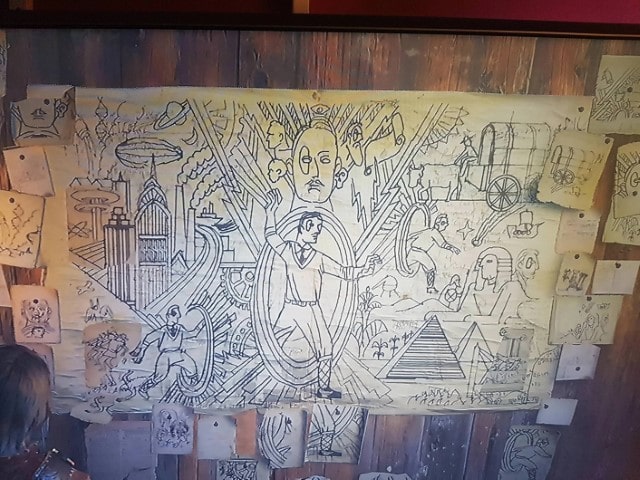 Francis Sinclair is a man from another time that players encounter during a questline involving time travel and mysterious artifacts. He tasks players with finding rock carvings scattered across the game world. One of which seems to depict an atomic bomb. It leads to a mind-bending revelation about his true nature. Francis Sinclair's narrative adds a connection to the future and a hidden message about the nature of time itself. He seems out of time and place and challenges players' perception of reality within the game's universe, especially when he shows up as a newborn baby at the end of the story. Some relate this character to "future" events in Grand Theft Auto V.

The Feral Man
Roanoke Ridge holds a secret – the Feral Man. This wild character is living in harmony with his pack of wolves. His presence reveals a narrative of isolation and a life far removed from civilization. Beware: he doesn't take kindly to strangers lurking about his cave. Is he a werewolf, or just a loony?

The Robot

Meet Marko Dragic, the inventor, on a remote hill laboratory where he works on a secret, revolutionary project for the new century: a sentient piece of machinery. Not all goes well and eventually, Dragic is found dead and the robot escapes. A quest leads you to the robot high on the peak of a frozen mountain. Alone facing the far mountains he voices a sad "…Papa…". The robot's existence and its creator's fate reveal a narrative of ambition, invention, and the blurred line between life and artificial life.
Bigfoot
Of course he is in Red Dead Redemption 2… a bit hard to find though…
By examining various animals and following a trail of birds, players can uncover the hiding place of this legendary creature. Although Bigfoot remains elusive, mysterious piles of bones scattered throughout the game world suggest its presence.
The Ghost Train
Late at night, players may witness a ghost train haunting the tracks of New Hanover. This spectral locomotive adds a supernatural element to the game's world, enhancing the paranormal atmosphere of Red Dead Redemption 2. The ghost train's appearance reveals a narrative of a tragic accident and lingering spirits.
The Locked-Up Braithwaite Girl
In Rhodes, you can find a mentally ill locked-up girl in an outhouse, revealing a tragic and disfigured story. Her family decided to lock her up in an outhouse instead of sending her to a sanatorium. Gertrude screams constantly and repeatedly recites a mysterious number sequence that somehow relates to Grand Theft Auto V's phone number for Madam Nazaar (a character that first appears in Red Dead Redemption).
The Mutant Creature
A creepy Frankenstein-like creature can be found in a house in West Horn, featuring a pig's head, wings, and multiple limbs. The abomination can be found in a sort of biology laboratory in an abandoned mansion.
The Cave Devil
A hermit living alone in a cave in West Elizabeth claims to be the Devil himself. He wears gray hair styled to resemble the Devil's horns. A glowing red pentagram can be found near him, indicating that if he isn't the Devil, he might at least be in communion with demonic forces.
The Donkey Lady
In Cholla Springs, players can come across the corpse of a creature that appears to be a mix of a donkey and a woman. Since it's not a living creature, it remains unknown if this was a supernatural being.
The UFOs
Aliens have invaded Red Dead Redemption 2, with UFO encounters scattered across the map. These extraterrestrial sightings provide an eerie, otherworldly experience, adding a sci-fi twist to the game's narrative. The presence of UFOs reveals a narrative of hidden alien life and mankind's quest for understanding.
Bray and Tammy Aberdeen

Pig farmers. Go visit them. They'll invite you to dinner. Some of the most disturbing characters in the game, they're an incestuous couple of brother and sister who might just be cannibals. The food tastes… different. After drugging you they'll take your money and drop you in a shallow grave.
The Serial Killer
You'll find several corpses grisly mutilated throughout the world. Follow the clues and you'll meet the one responsible at his lair filled with newspaper clippings and several mutilated corpses in a truly horrifying scene. Oh, and he isn't happy about you showing up.
The truth is out there
Red Dead Redemption 2 offers a captivating world filled with paranormal creatures, creepy side characters, and supernatural phenomena. Each character not only adds to the eerie atmosphere but also reveals a unique narrative, enriching the overall storyline. So, prepare to explore the unknown and uncover the secrets of these paranormal creatures in Red Dead Redemption 2.
Wish to do a quick recap on the story of Red Dead Redemption 2? Check out my previous post: Red Dead Redemption 2's story for people in a hurry.