Red Dead Redemption 2 Poker – not for everyone
Would you like to play Poker with your posse on Red Dead Redemption 2 Online? Well, you might be out of luck. Not everyone is allowed.
…But is there a way around it?
This isn't the first time Rockstar cashed out on players.
A sad day for GTA V
6 months ago Rockstar surprised a lot of players by launching an update to Grand Theft Auto 5. It featured the eagerly awaited Diamond Casino Spa & Resort in Los Santos. Unfortunately, the seats at this casino's tables were not available to everyone.
Many players were facing issues when attempting to use the casino's chips, tables or slots. Rockstar did not release any information regarding this issue which made players think it was a bug of sorts. It appeared like there was a connection issue – but nothing mentioned that gambling was disabled for certain players.
Rockstar was blocking players from certain countries
The restrictions were unclear and apparently unreasonable. Some countries have strict legislation against gambling and were able to access Rockstar's casino games.
Now, I live in Portugal. We have a ton of casinos and gambling halls in our country. Plenty of online sports betting websites. Pokerstars and mobile gambling. There's even state-endorsed gambling available and yet we're unable to access the Diamond Casino games in Grand Theft Auto 5. Meanwhile, our friends over in Spain who have pretty much the same regulations as we do, have no issues playing at GTA V's online casino.
It is kind of sad that some players get free items, free content to play with and all sorts of activities that many others are prevented from accessing altogether.
This is even more ridiculous if you consider the fact that you can't even cash-out the money you earn. It's all virtual. It isn't really a gambling addiction problem, just a regulatory one.
In GTA V you do have the option to buy GTA$, but you can't convert it into real money. However, in RDR 2 Online, you can't even buy $ – only gold, which is a very different currency.
Here's a list of countries unable to gamble in GTA 5's online casino, according to Reddit user SlapshotTommy:
Afghanistan
Algeria
American Samoa
Argentina
Azerbaijan
Bahamas
Bhutan
Bosnia Herzg.
Belarus
Brunei
Cambodia
Cayman Islands
China
Cuba
Cyprus
Czech Republic
Ecuador
Greece
Iceland
Indonesia
Iran
Iraq
Israel
Jordan
Kuwait
Lebanon
Libya
Liechtenstein
Luxembourg
Maldives
Mali
Mauritania
Malta
Malaysia
North Korea
Oman
Paraguay
Peru
Poland
Portugal
Qatar
Saudi Arabia
Somalia
South Africa
South Korea
Sri Lanka
Sudan
Syria
Taiwan
Thailand
Tuvalu
UAE
Vietnam
Venezuela
Red Dead Redemption 2 Poker? Same thing, different game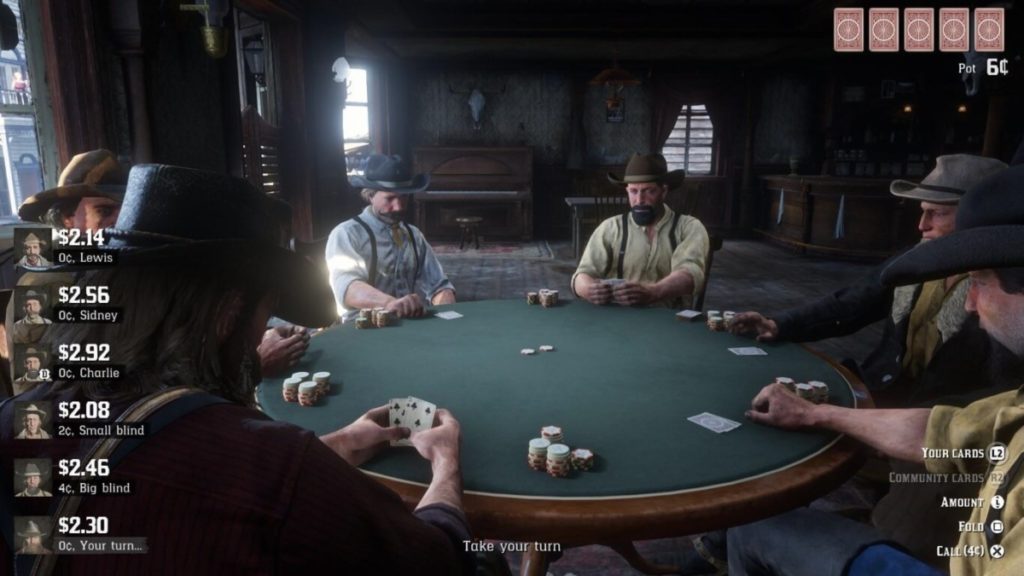 I like playing Poker. It's fun and relaxing and a great way to socialize and meet new people.
One of the reasons why I bought RDR 2 was because Poker was a thing. It seemed like it would be a lot of fun to play against other players online.
There aren't that many 3D Poker games out there since PKR was terminated a few years ago, so I thought this would be great fun.
Apparently I was wrong.
I was not going to be allowed to play Poker in Red Dead Redemption 2 Online. I'm guessing Blackjack won't work either, even if you're just playing against an NPC like in singleplayer…
Rockstar does not inform RDR 2 players properly
I'm a PC player. I missed the news that this was an issue back in May 2019, when it first came up to the PS4 and XBOX players.
In fact, I thought that this was not yet implemented. Until yesterday, when a random player approached me in role-playing style. He asked me if I would like to play poker with him.
I laughed and said that I would love to – but that the only way to play Poker right now is the singleplayer game mode. Then he replied that he had been playing with his mates.
I was confused.
Rockstar did not release any info regarding this topic. There's no contextual info or error message. Nothing. You can see the NPCs playing by themselves, but there's no interaction button or error message.
The reality is that they're hiding content to avoid complaints. In a way it kind of angers me more that they hide this content instead of informing players in-game that the content isn't available for players in their specific region.
How to play Poker in RDR 2 if you're excluded?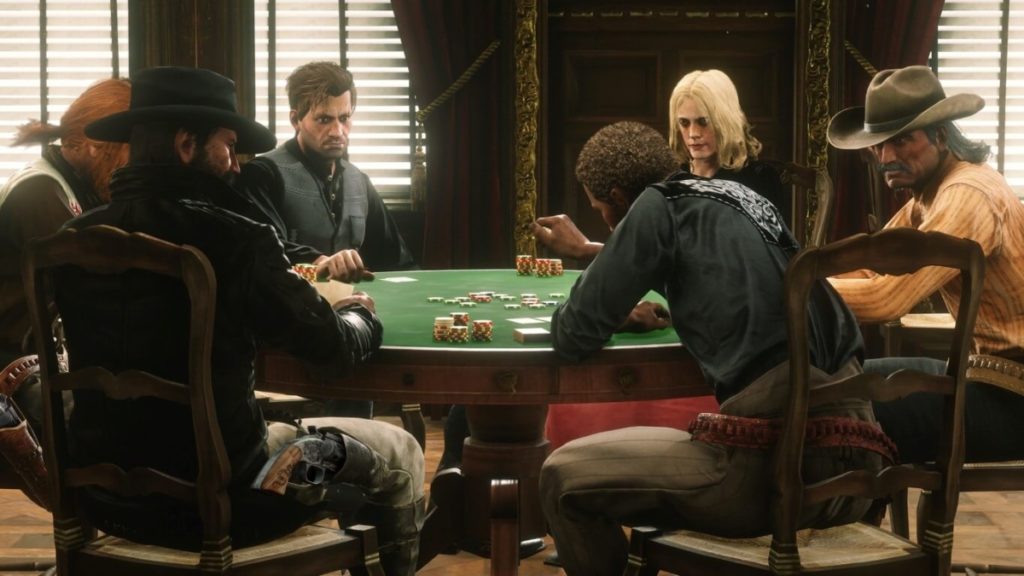 The answer is simple. Go live somewhere where your IP isn't blocked by Rockstar… or get an IP from a different country instead.
VPN networks seem to have been working as a great workaround for players in GTA V wanting to play at the casino. This isn't a cheat, this isn't a mod. Now, the question is:
Will Rockstar ban you for using a VPN? Unlikely.
Is it possible they will? Sure.
Is it reasonable to do it? Nope.
Is Rockstar known for being reasonable at anything… ever? Nope.
Alternatively, play in singleplayer mode. Boring. I know.
Cashing out.
I can't understand Rockstar's criteria for picking certain countries, but not others.
The lack of info regarding this topic as if it wasn't an issue at all is ridiculous.
I won't accept that they would advertise something that really isn't available at all.
Rockstar is weird when it comes to gambling. I sure will remember that the next time I avoid buying a game with that feature.
I won't see you at the Poker table,
-ViLa4480