…and will Star Citizen ever be delivered?
Ah. Star Citizen.
I avoided posting anything about Star Citizen on my blog for years now.
I'm an original backer since when it first was announced way back in 2012.
I wanted to distance myself from the game before posting on my blog since Star Citizen is (still) in development.
Thoughts about the game's development tend to be polarized and I did not want my fan enthusiasm to compromise my perception of the game.
I used to stream Star Citizen all the time on Twitch (you will make me smile if you go follow my channel right now!).
Maybe now's the time to clarify some misconceptions and point some concerns regarding Chris Robert's massively crowdfunded project.
I won't hide it.
I am biased in favor of Star Citizen.
The skepticism of some people is understandable, and the wait isn't for everyone. -Are you one of these people?
Hopefully, you'll find out after reading this article.
I will try to analyze some of the frustrations, doubts, and expectations that the fans and the haters are experiencing or discussing – hopefully enlightening newcomers to the game.
The aim of this article is to clarify and avoid buyer regrets.
Should you avoid Star Citizen?
A little bit of context first.
What is Star Citizen?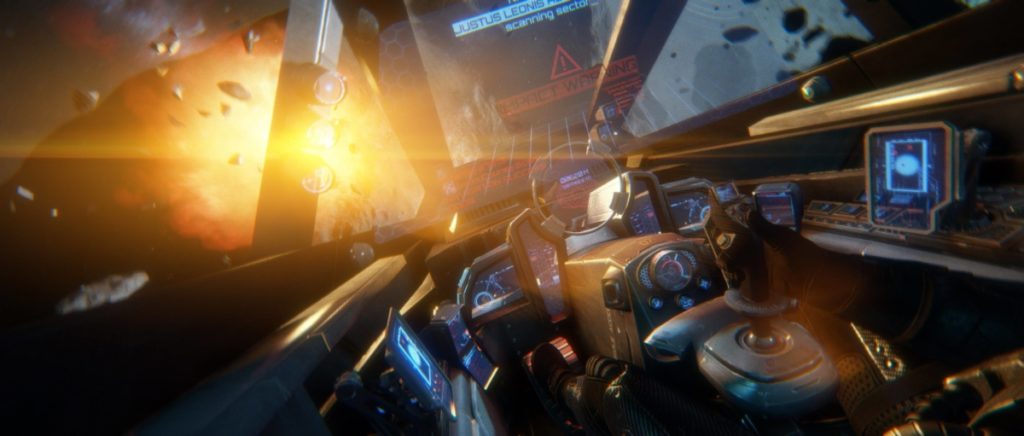 Star Citizen is hard to define, but let's start by saying that it is one gigantic sandbox for many different types of emergent gameplay. Composed of two parts, it will feature a single-player campaign (Squadron 42) and an online Persistent Universe (MMOG-like).
They create the universe, you make the rules.
As with most 4X space games, FREEDOM is the keyword for the universe. Star Citizen allows you to become a space farmer, a miner, a bounty hunter, an explorer, a smuggler, a racer, a law enforcer and anything in-between.
The Star Citizen team is looking to develop a sandbox universe that provides a fertile ground for emergent gameplay. They are creating the tools for you to become whatever you want to be.
As an example, for a while, I had fancy a ship called Constellation Phoenix, which I planned to rent out to factions interested in using it for important meetings. During their stay, I would provide them with drinks, entertainment, and security.
I eventually traded the Connie for the Endeavour – a sprawling modular ship that will allow me to cultivate plants and make drugs on the same ship (legal …or otherwise) – it even stars a hangar to allow willing traders to dock with my ship!
The game will feature unprecedented sci-fi realism and a ton of complex missions and mini-games that will require learning and skill to master.
Nothing is dull or simple in Star Citizen.
As an example, mining requires foreplanning and skill – unlike most space games, you actually have to learn how to mine and be very careful when doing it in order to avoid damage to your ship or even loss of life.
Selling your minerals won't be linear either. Prices fluctuate according to supply and demand in different parts of the Universe, influenced by real-time player and NPC interaction. This was also analyzed in my other post that discusses economics.
This sandbox gameplay leads to many venues of gameplay exploration. This freedom to do whatever you want is the core focus of Star Citizen.
I also expect this game to become a major social hub for me and my friends.
COMPLAINT #1 – The game has no objective.
Objective – Achieve fun (0/100)
There's no denying it. It's true.
Is that REALLY a problem though?
Just like Grand Theft Auto online, or Red Dead Redemption 2 online. Star Citizen's Persistent Universe won't hold your hand or set you on a campaign path. You get to choose what to do, where to go, what to see and who to meet.
If you really think you need guidance, then why not set YOUR OWN goals?
Why not set a personal goal to explore every single system?
…or instead to amass wealth and spend it all on a luxury liner like the 890 Jump?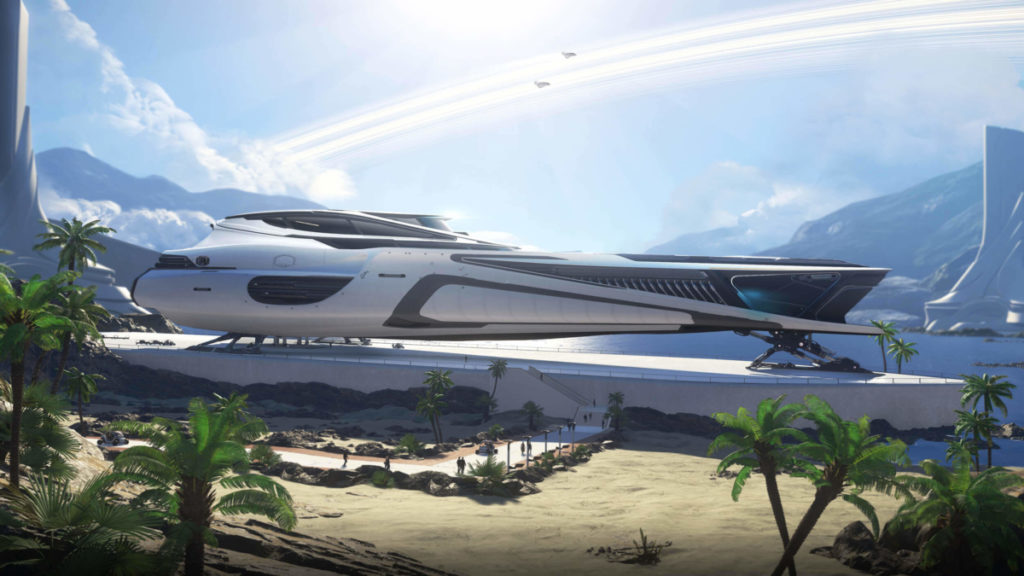 The ghost cruise ship of enjoyment
A long time ago, I used to play a game that had very much the same essence of Star Citizen – Freelancer, a game by the same head developer (Chris Roberts) that I mentioned in my previous post.
When playing Freelancer online, you would find yourself cruising the star lanes for long periods of time on your way to make a trade.
One day I was crossing a remote part of the game's universe when I spotted a massive player ship that was constantly communicating in system chat. Oblivious to my presence, this was his message to his own imaginary crew of tourists:
"Ladies and gentlemen, we have now arrived at the Tau-31 system. To our left, you will be able to spot the beautiful semi-desertic landscape of Planet Harris, one of the first terraforming efforts by Planetform, Inc.
Please return to your seats.
We will dock at the Holman Outpost in 5 minutes."
To think that this player was investing his time roleplaying as a tourist cruise ship really blew my mind. That route was probably not even profitable – but he didn't care – because having fun was his objective. And whatever he was doing was fun for him.
Oh, by the way, there's no "endgame" in Star Citizen either. Sandbox.
If you can't understand the concept of setting your own goals, then please stop reading now. This is NOT the game for you – Abandon ship!
COMPLAINT #2 – The game is pay-to-win.
As I discussed in one of my previous Youtube videos, the concept of Pay-to-Win is that you get an edge in a competitive environment by injecting real money into the game.
Whoever pays the most has the most chances of "winning".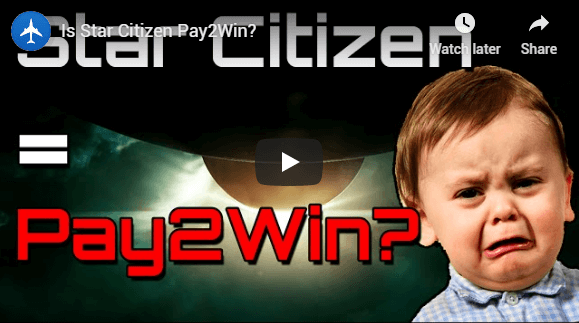 Although it is true that you are able, through various means, to buy in-game credits or ships with real money, the real question is WHY would you do it when the game has no end-goal…
Star Citizen is not about genital length comparisons. There's no point in spending money in this game except for two very honorable reasons:
To support the game development process if you believe in it
To unlock new gameplay layers without having to grind to get there
However, if grinding is made fun (which seems like it will be with so many different things to do), you will actually be LOSING content by skipping gameplay aspects that you would otherwise have to explore and experience to achieve your final objective.
That sense of progression
This is exactly the reason why I've considered giving away all my ships – so I could start with the smallest, cheapest one ever and see my own game story grow from there.
If you believe SC is still pay-to-win then embrace it this way – or Abandon ship!
Instead, think of the guy cruising his tourists for fun.
-Does it really matter how he bought his ship?
-How does his enjoyment affect you?
-What are his goals?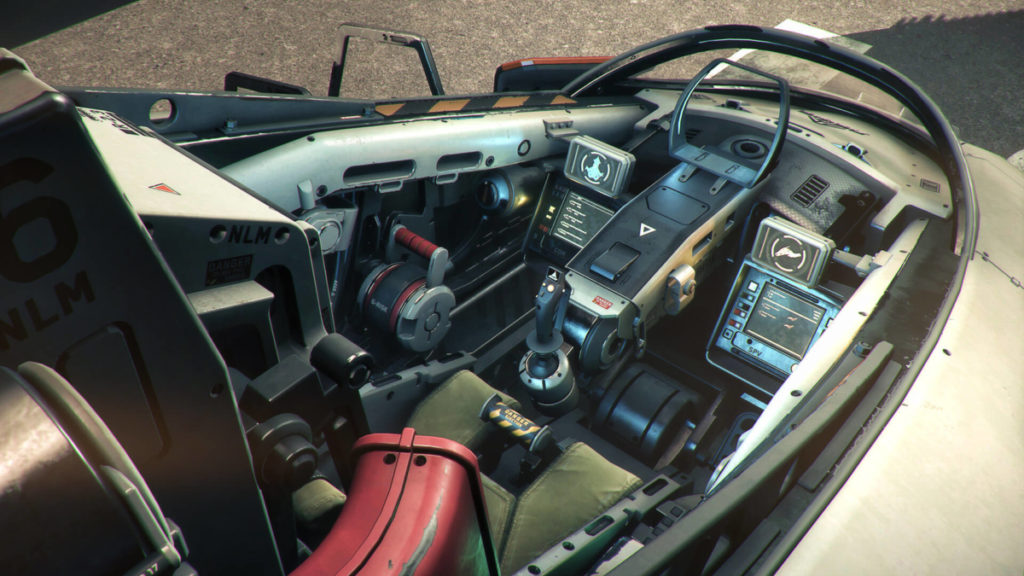 COMPLAINT #3 – The game is too expensive!
You'll often see news titles like "Player X has spent over 15.000$ to play Star Citizen", or "Star Citizen's new ship pack costs an absurd amount of money"
Today, the cheapest game package costs 50$.
A few years ago you could buy one for 26$…
Sure, there are ships that cost over 400$ and there are ship packages which include a ton of ships (which are actually at a bargain price when you consider each ship's individual price). But those ships and packages are NOT intended for just one person or a newcomer. They require several people to play.
Think of the Banu Merchantman which has a crew capacity for 8 people and costs 430$. Divide 430$ by 8 people and you get the price of the cheapest game package. Go gather your friends and buy one!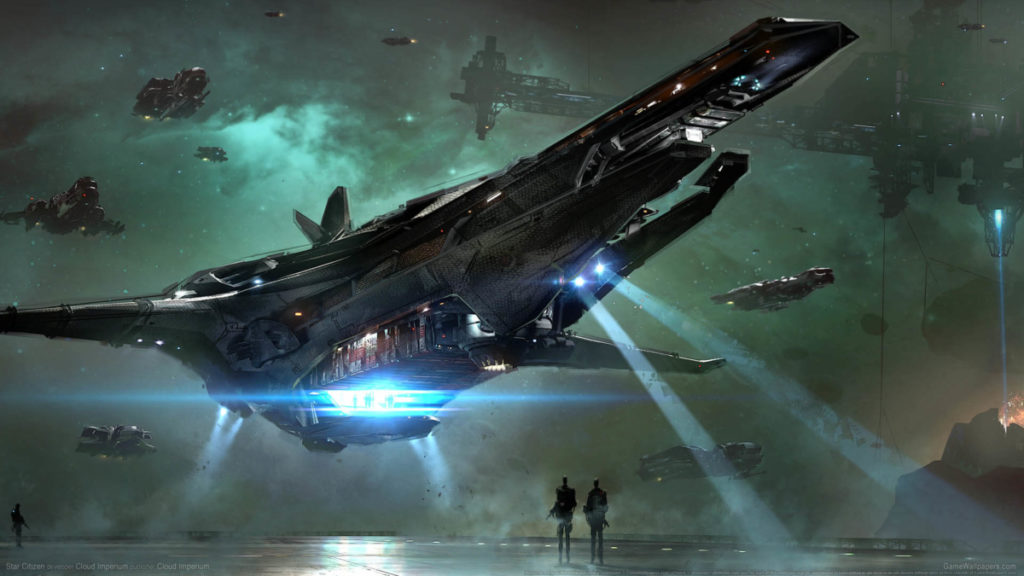 These massive ships are NOT intended for solo play.
People who buy large ships now are simply trying to support the game's development.
Also: every ship will be available to purchase with in-game money.
GTA V does this well. It gives people a reason to try to make in-game money. Something to strive for. An objective.

COMPLAINT #4 – The game will never be finished
Star Citizen has been in development for 8 years now.
The same amount of time as the sci-fi single-player game Cyberpunk 2077 by CD Projekt Red studios – which is expected to be delivered in 2020.

However, unlike Cyberpunk, Star Citizen is nowhere near completion.
At the same time, and unlike Cyberpunk, it shares its progress with the community regularly, instead of working behind the scenes and ultimately presenting a finished game. The complexity of developing each game is also radically different.
Some claim that the game will never be finished because of the feature-creep-Cthulhu. Others say their plan is actually to never even deliver a finished game. Even more skeptic ones say that Chris Roberts has run away with the crowdfunded money to a tropical island in the Pacific.
Feature Creep
If you're one of the investors (a.k.a. players) who feels frustrated by the way that they seem to keep adding new features and delaying the final delivery – then consider accepting it as a requirement or, instead, by blaming it on the idealistic dreams of the community.
A couple of years into development Chris Roberts suggested he could deliver a simplified game in two or three years.
One day a poll showed up on the Star Citizen website. The developer wanted to figure out whether the community would prefer to see a simplified version of Star Citizen within their initially planned timeframe or instead to deliver a more in-depth experience, one which would require a longer development stage.
As I somewhat expected, the community overwhelmingly (I believe almost 70%) asked for the later without knowing exactly what the real timeframe would be.
This meant that Chris Roberts could freely deliver his dream game. One he had been preparing for most of his career as a film director and game developer (Wing Commander, Privateer, Freelancer). Now he had big plans for Star Citizen and hiring the feature expansionist Tony Zuroveck (Ultima series) would only reinforce his interest in developing very in-depth and detailed game mechanics.
Innovation and delay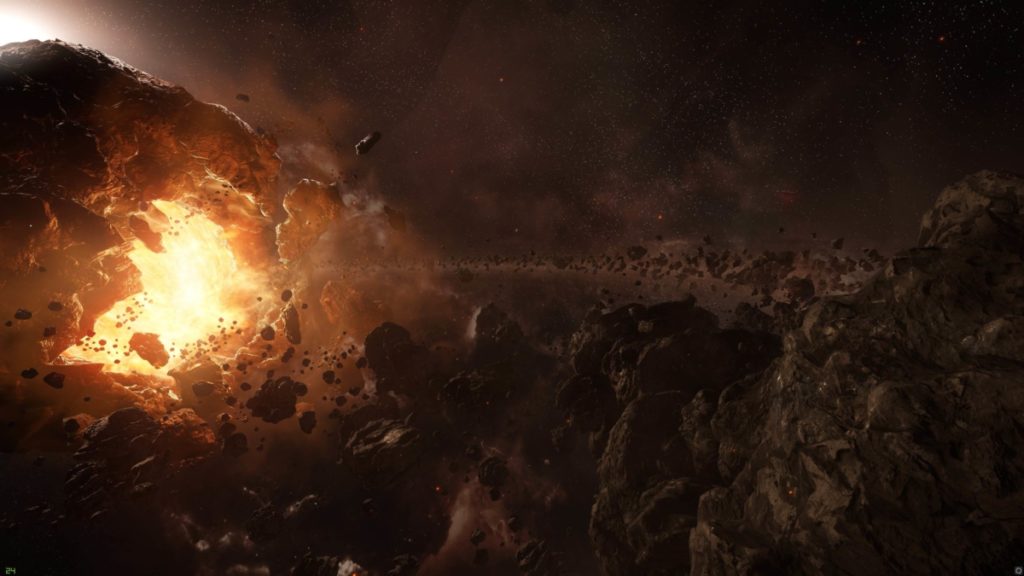 Even though many of these features or minigames are a gameplay delight, they take time to develop. A very long time for some. They also exponentially increase the number of bugs to tackle and problems to solve.
One of these features is the planetary tech they've developed. To render such massive planets and avoid loading screens sure was impressive – but it was also one of the reasons why the so-difficult 64-bit precision had to be accomplished in the engine.
Ships, in order to support the newly added features or concepts also have to be redesigned from scratch, like the Cutlass Red which serves as an ambulance and integrates with the health system, or the Carrack for the exploratory aspects of the game.
As a result, yes, feature creep is real and a real concern. It does divide the community between those who just want to play the game as is but in a more polished state and those who instead want the game to become better, with more content, features, and professions to explore.
Star Citizen will never be released!
We should consider that the initial team for Star Citizen was rather small (50 employees) and the company had to slowly grow. Now they employ approximately 500 people in 5 studios across the world. This meant that more people had to be introduced, and teams still had to learn to work together on core aspects of the game, which ultimately lead to a slow start.
To support the growing number of employees, the initial record sales of the game wouldn't suffice.
Looking at their latest financial report, one would quickly realize that what's keeping this game in active development aren't the initial sales anymore, but rather the on-going ship purchases, upgrades and merchandising. These sales sustain the whole team throughout the year.
Some people claim that they're only making ships and concepts for ships to make money.
Well… this is… true.
They need to do so, in order to keep the project alive and proceed with development.
The reality is that the players are frequently buying paper ideas that aren't yet realized in-game and are likely to change. Understandably, spending a lot of money on something that doesn't yet exist seems difficult to accept for many outsiders.
Tic Tac Tic Tac
Adding to all this, as time goes by, age takes a toll on the game's engine and assets, which has to be updated from time to time. Physics-Based Rendering (PBR) wasn't a common feature in games back in 2012, but as time passes and technology evolves, it had to be introduced to avoid the pitfall of ending up with an already outdated game on release.
This meant refactoring all ships once again.
The same happened when the components feature was introduced. Ship components are parts of the ship that can be handled, fixed or replaced. The ships weren't prepared for that and had to be refactored one more time.
Due to the live development approach, CIG prefers to deliver functional updates to allow the players to access other features or content.
These features are developed iteratively, being later on optimized, improved or further developed to add new innovations. The fact that they keep revamping the same features over and over is not a pre-planning issue but instead a requirement of the live development process.
Drinking Mojitos
I don't think Chris Roberts is on an island in the Pacific.
This is his dream work. His unique chance to build his masterpiece.
His previous games have revolved around this theme and now he's finally got a chance to make his vision truly come to fruition on his terms without any form of corporate pressure. Why waste the opportunity?
This is what led me to back this project. I'm a huge fan of his sadly incomplete Freelancer and I really want to see Star Citizen succeed.
I'm usually relaxed and I don't excited about a game easily. Well maybe except for Red Dead Redemption 2 and Microsoft's Flight Simulator 2020!
My concern
The fact that the game development costs are just as high as their regular revenue is a concern as there's a point when players stop investing in new ships and merchandise. They will constantly need to reach out to new players in order to keep development going.
This could also be seen as financially and strategically sound to work as fast as they can with the assets they have access to.
Apparently, last month was one of the most profitable ones for Star Citizen with many new citizens joining the ranks.
I'm convinced by my peer's attitudes towards this game that there is a significant amount of people who are actually interested in the game but still patiently waiting for it to release before buying it. Maybe still afraid of it being vaporware.
If true, this should act as a life-saving device as they can "release" the game whenever they want and get a large influx of fresh new money to sustain development for a few more months or years. The truth is that the game is more than playable right now, even if it still lacks content.
Eclipsing thoughts
Star Citizen is said to be being developed to achieve a 10-year longevity goal. This is the main reason why they wish to build a solid core game engine that allows for improvements and extra content over time.
Game development tends to become faster and faster as more of the foundational game mechanics are set in place.
We should see a LOT more content coming in 2020.
What are your thoughts on Star Citizen and this article?
Do you share my view? What are your concerns?
Leave me a comment below, or check one of my other posts!
If you liked this one, you might also like THIS one.
You should also check out my Star Citizen Ship Comparison Tool which is currently on standby waiting for some support from the community. Leave me a comment if you would like to see it shine again!
I just made a new post on the economy of Red Dead Redemption 2 that analyzes Star Citizen's economy layout. Go check it out!
See you in the 'verse!
-ViLa4480