I got the chance to try out the new Steel Division 2!
Before we start dissecting Steel Division 2, let me clarify that most official screenshots suck.
They're done at a very high zoom level to showcase the 3D unit model details.
The game isn't played like that so let's cut the crap.
Every screenshot I will add to this post will feature the average camera angle and zoom for most players.
Sorry if it doesn't look as pretty as those incredibly detailed tanks and planes – but that's the reality of how the game looks because that's how you will play it.
The game is beautiful in its own way, but the screenie close-ups aren't fair to what the game truly plays like.
This bad habit of showcasing aspects of games that aren't relevant really upsets me as it tricks players into buying something that doesn't look like what is shown. I also hate cinematic trailers btw. So this will be the first and last close-up you'll see in this post:

Steel Division 2 – I was excited but slightly skeptic at the same time.
There were a few good reasons for that.
Steel Division 2 picks up where Steel Division: Normandy 44 left off. Instead of hitting the beaches of Normandy in operation Overlord, this time you'll be fighting its eastern counterpart, Operation Bagration.
Eugen Systems has been developing this engine for quite some time now. The game shares similarities with one of my favorite games of all time:
A magnificent war tabletop-like game called R.U.S.E.
Man, I wish I had this blog when R.U.S.E. first came out back in 2010!
I promise I won't spend this article talking about the oldie.
The truth is that most of the game mechanics present in 2019's Steel Division 2 were already present in 2010's R.U.S.E…. as well as every game in the Wargame series.

The 3 rules of war: location, location, location.
Steel Division 2 features a GIGANTIC war map where you're able to scheme, plot and outthink your opponent using clever unit maneuvers and critical timing for moving your troops.
The game demands that you think in advance, that you prepare for all possible attacks and counter-attacks. It demands concealment, ambushes, suppression and quick battle-critical decisions.

As a general, you focus on securing key locations on the map. It's simple: the more you have, the more likely you are to win the battle. To achieve that you need to put boots on the ground.
Occupy and fortify villages with your infantry units. Place anti-tank guns at the main roads and anti-air units in the forest. Support with long-range artillery and have a couple of big, heavy tanks ready to flank any attacking force. Fuel and repair your planes to help push back the enemy.

Yet, you're going to lose this fight. Sorry.
You forgot to place your recon units where they can spot the enemy at a distance.
The enemy force advances towards the town.
You know they're advancing as they slowly push the red line that splits the map between your sector and the enemy's.
You don't know what's coming your way so you move your tanks towards the enemy. BAM! They're blown into tiny pieces by the enemy tank destroyer. You can't even see it as it is too far away and your recon units are nowhere to be seen. The enemy rushes towards your position. Once they're in sight of your anti-tank gun you realize they actually have no tanks and your gun is useless at this point.
Too late to fall back.
A number of storm infantry rushes towards your anti-tank gun and quickly take care of it. Your infantry units are holed up inside the village houses and are able to effectively suppress the enemy infantry. Enemy artillery falls on your units and it completely destroys their hideout. As a final act of despair you send your planes to destroy the enemy artillery. Unfortunately, they're shot down by a couple of enemy anti-air units hiding in the woods.

The inevitability of war
The truth is that Steel Division 2 feels a bit pre-scripted in the sense that it is hard to bounce-back once you're losing a match. The story of the match is mostly written during the first 15 minutes of it.
Efforts to change that are often met with resistance. It is pointless to throw new units to lock your position as they will take too long to get there.
Your allies won't help you. They've got problems of their own – and due to the size of the map they're too far away to be of any help. In fact, it kind of feels like your allies are mostly just cosmetic.
Fortifying and defending a position tends to be easier than to attack an enemy outpost, but you can't defend forever. The enemy will eventually score.
This inevitability of battle actually forces you to keep adjusting your tactics. You will now need to use choke-points for ambushes and to support your troops with a different mix of units. Hopefully, the enemy won't be prepared for those.

Good timing and a plan for falling back is most times a requirement and a prelude to a successful counterattack. A counterattack victory is glorious but oftentimes happens due to the enemy spending all of their units before the battle timer runs out.

Fighting time
The Phase system splits the match into three timed phases where you're able to deploy different types of units. It allows you to set up your forces in any way you like during each phase, allowing you to carry more units and more experienced ones as time progresses. You lay out your own strategy as a tabletop card game.

You will decide how many tanks you're carrying into battle, how many artillery pieces, planes, snipers, but also which vehicle is transporting them and which weapons are they carrying.

This breathes new life into any stagnant fight. It ultimately forces players to re-adjust their tactics to fight the new enemy units.
Even if daunting at first (when you just want to rush and play the game), it becomes the key to your strategy. Something uniquely yours to surprise your enemy with.

One-man army
The game truly shines in multiplayer, where battles are dynamic and unpredictable. Even though communication is lacking and, in most public games, pointless.
Singleplayer, however, lacks that.
The AI is very slow and very predictable.
Matches seem to last for hours. It seems like both AI sides are just too polite to hurt each other.
The most exciting single-player feature is the Army General maps. In this game mode, Real-time battles are just a fraction of a much larger turn-based conflict. Akin to the likes of a Total War campaign map, you're able to move your armies in a large conflict map and fight the battles in real time. This however is a brand new feature that still requires some polishing.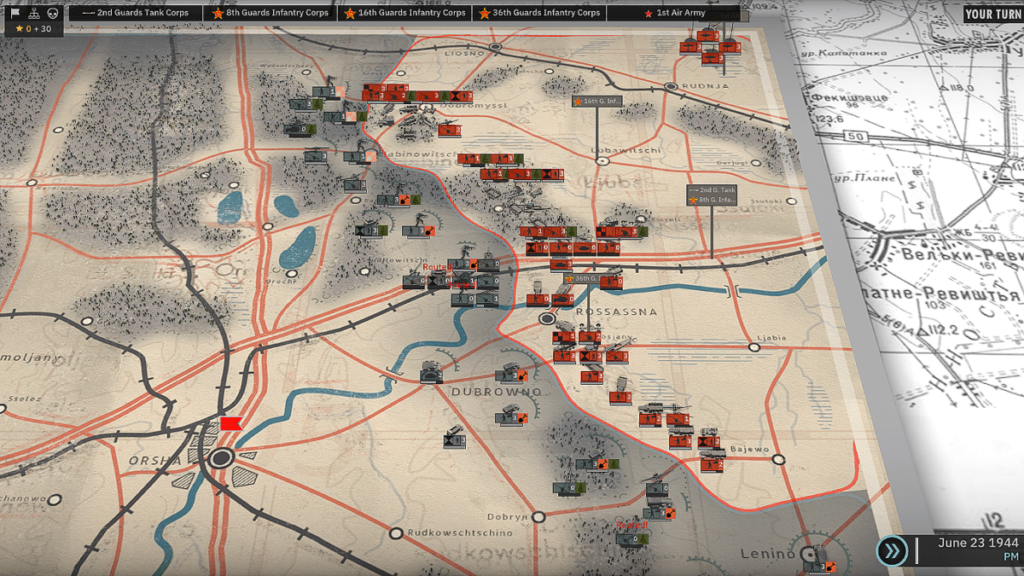 The UI lacks context information and it is unclear how units move and which units will fight in a battle. The missing tutorial is also a major downside. The fact that real-time maps are always the same (instead of being dynamically generated based on the campaign map) is also a downside.

I would love to see Hearts of Iron sized maps of the whole conflict and being able to truly wage war at a continental scale. However, these maps only represent a few hundred square kilometers. Due to the scale of the units on the map and how fast they reinforce, you're not really able to plot a major flanking or bubble maneuver with your units. Instead you'll see a blob of units spread along a slowly-moving borderline. The fact that you're forced to reach a destination within a limited number of turns also prevents you from planning a massive invasion.

Afterwind

This game tires your brain. In a good, albeit costly way.
I really enjoy playing just a single match per day.
The constant need for micro-management at a massive scale and battles taking longer than 30 minutes (up to 2h in single-player AG) really tire your brain and I usually turn to a brainless shooter like Battlefield V afterwards.
To be fair, Steel Division 2 doesn't feel like a brand new game. It is very similar to other games being developed for the past 10 years by the same company. However, its game mechanics are solid and it feels like there's plenty of different battle strategies to explore. The complexity of war and the tiny victories you get in each battle makes it very enjoyable. You'll feel that losing a match can be very enjoyable if the battle was fair.

Steel Division 2 is a realistic and complex combat representation that really forces you to think ahead.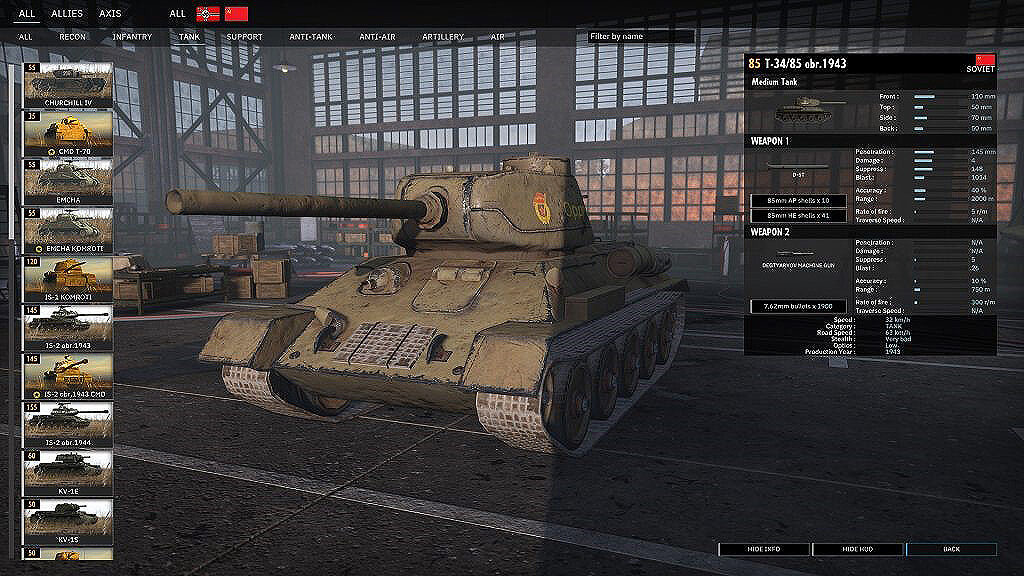 The learning curve is steep.
Especially if you've never played any previous games of the series – or if you wish to become an expert and keep track of all the stats and micro-manage each unit.
However, the massive scale, beautiful graphics, detailed and accurate combat systems and the dynamic multiplayer, make it one of the best and most realistic games of its kind.
Just don't expect to have your hand held in war.
I would value this game at 60€ if you're a war enthusiast, 25€ if you're a Tropico 6 player and 15€ if you prefer non-RTS games.

Popcorn Score:

I'll see you on the battlefield!
-ViLa4480